Wijnkist
Bedrukte Wijnkisten
100% eigen productie
Keuze uit één of twee vakken
Description
Een fles wijn cadeau doen?

Dankzij een wijnkist met eigen ontwerp springt het cadeau eruit! Je hoeft alleen nog maar te kiezen of je één of twee wijnflessen erin kwijt wilt. De één vaks wijnkist is 10 x 35 cm en de twee vaks variant is 20 x 35 cm.

Originele en voordelige wijnkisten

Tijdens relatie evenementen en rondom kerst blijft een fles wijn een 'evergreen' in de categorie geschenken. Dankzij de houten wijnkistjes geef je een persoonlijke en vrolijke toets aan je eindejaarsgeschenk. Deze ecologische box word nog lang na Kerstmis bijgehouden (we spreken uit ervaring), of krijgt een tweede leven als hij nogmaals gebruikt wordt door jouw klant om zelf een geschenk te geven. Zo wordt een verpakking geen papierstapel, maar krijgt het een tweede leven. Win-Win!

Berkenplex wijnkisten met een Forex® deksel

De print is 100% full color en komt op de deksel van Forex®. Meteen een hele serie kistjes afnemen hoeft niet, onze wijnkisten zijn al vanaf één stuk te bestellen. Groots uitpakken kan uiteraard ook met afname van meerdere kistjes.

Geïnteresseerd in het Marketing Shelfie Design?

Ook dat kan, bestel je kistje, kies 'eigen ontwerp' en vermeld in de notes sectie bij de checkout dat je voor het @marketingshelfiedesign kiest (deze is "on the house" ?). Je kiest bij de checkout dan ook voor 'geen design kost'.
PS: Je kan ook jouw logo laten toevoegen aan het bestaande retro design, maar dan moet je het zilveren design pakket toevoegen bij de check-out. Wij zorgen dan dat jouw logo een prominente plaats krijgt, maar toch ook niet alle aandacht wegkaapt.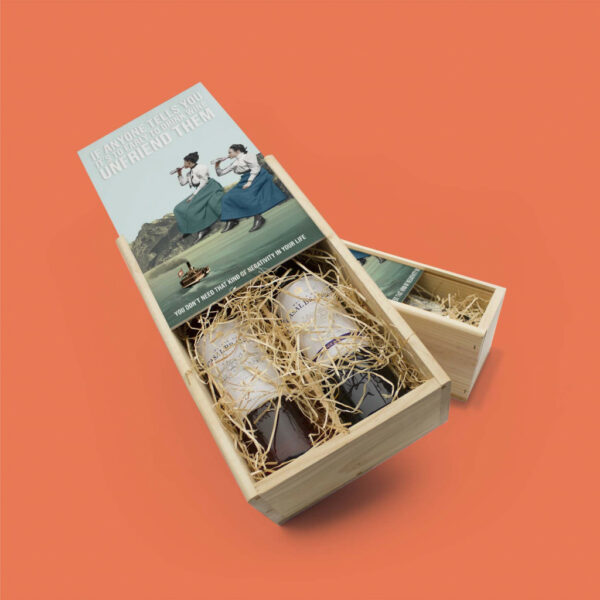 Wijnkist